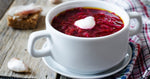 This jewel toned soup will brighten up any day! With five different vegetables this will fill you up with plant-based goodness, while warming your cockles!

Borscht
¼ C olive oil
½ t caraway seeds
1 large yellow onion*, chopped
4 medium beets*, peeled and diced
1 small head red cabbage*, cut into ½-in. Pieces
2 carrots*, finely chopped
2 parsnips*, finely chopped
2 T apple cider vinegar, divided
6 C broth (beef is traditional but veg works too)
1 ½ t salt
¼ t black pepper
-
Heat oil in a large pot or Dutch oven over medium-high. Add caraway seeds & cook, stirring often, until they sizzle & pop, ~1 min. Add onion; cook, stirring occasionally, until soft & golden, 5-7 min. Add beets, cabbage, carrots, parsnips & 1 T vinegar. Cook, stirring occasionally, until vegetables begin to soften, ~12 minutes.
Add broth, salt & pepper; bring to a boil. Reduce heat to medium-low, cover, & simmer until beets are tender, ~20 min. Stir in remaining 1 T vinegar. Top each serving with a dollop of sour cream & dill. Serve with buttered rye bread.