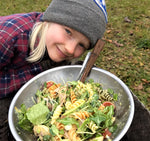 Every week, we sit down to plan the meals that Milo will eat at his new part-time school. We go simple - we plan the same breakfast, snack and lunch and we pack it all up on Sunday in individual containers so it's ready to go!
This week Milo wanted a macaroni salad and we had fun adding whichever veggies were available at the time.
Milo's Lunch Box Macaroni Salad
Cooked macaroni
Ham
Arugula*
Microgreens*
Any other veggies* you have on hand!
Relish & Mustard Dressing
¼ c mayonnaise
2 T cream
1 T cider vinegar
1 T maple syrup
1 T old-fashioned mustard
1 T relish
½ t hot sauce
2 green onions, chopped
Salt & pepper to taste
Mix all ingredients together in a bowl or jar. Will store for 2 days in the fridge.

La cuisine de Jean Philippe