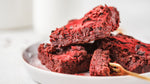 Joli's time saving hack: roast or boil a large batch of beets, puree, and divide into ⅔ C freezable portions so you can whip these up in no time!
Beet Brownies
½ C coconut flour
6 T cocoa
¼ C tapioca starch
1 t baking powder
½ t baking soda
¼ t salt
⅔ C beet puree
4 eggs, beaten
6 T maple syrup
6 T coconut oil, melted
2 t vanilla extract
½ C chocolate chips and/or raisins
---
Whisk together coconut flour, cocoa powder, tapioca starch, baking powder, baking soda, and salt.
In another bowl whisk together the beets, eggs, maple syrup, coconut oil and vanilla. 
Stir both wet and dry mixtures together until the mixture is smooth. Stir in chocolate chips and raisins.
Pour into 12 muffin cups, top with more chocolate chips if desired. Let sit for 5 mins before baking. Bake at 375 for 20-25 minutes.

https://leelalicious.com/grain-free-double-chocolate-beet-muffins/