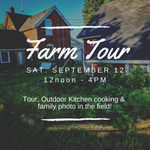 Ottawa Farm Fresh is opening its doors (well, more like its fields, on-site Farm Store and Outdoor Kitchen) to YOU! Come and experience the behind-the-scenes magic of growing organic veggies. Hear some incredible stories about us and the land we're farming. Ask Jonathan anything about growing organic produce. Taste the veggies you're craving! And when you're tired, pull out your picnic lunch and just plop yourself down in the grass for a meal made better by the nature around you. Get grounded in the soil that feeds you. We have big dreams for this farm, for this community, for our...
---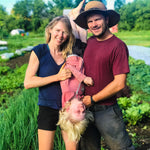 From the almost perfect farm in the Quebec Eastern Townships to selling everything and packing our lives into a converted Sprinter Camper van, to three years of traveling the whole of the US and Canada twice, to discovering the lonely plight of farmers across this vast land, to landing on our new organic farm only 10 minutes from downtown Ottawa... this is our adventure story.
---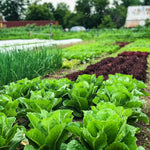 Our on-site Farm Fresh store is Open! Drop-in and pick up your veggies fresh from the field.