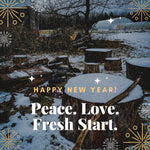 Rose. Thorn. Bud.
At the farm Jonathan often starts or ends a work day leading us in an exercise called Rose, Thorn, Bud.
The idea is to offer one thing that you are grateful for - your Rose. One thing that you are finding challenging - your Thorn. One thing that you are looking forward to - your Bud.
As we look back on the year that brought us to settle in Ottawa these three things are so distinct. So present.
Our Rose: This community. What a blessing to be so warmly welcomed into a cozy, brilliant community like this! Full of warm-hearted people with such enthusiasm for what we're aiming to do here on the farm.
We thought coming to a new farm would mean starting from scratch educating our new friends and neighbours on the innumerable benefits of partnering with us, farmers to bring good food to their tables... We were not prepared for the enthusiasm and vision of the people in this community. It was like so many of you were just waiting for us to arrive. And we couldn't be more grateful.
We are excited to live among friends and neighbours that share our intentions of living with health, vitality, joy, a sense of community and striving for a meaningful and sustainable connection to the land. Oh, and to live where people know how to dance and laugh and get dirty! Well, that the cherry on top.
Our Thorn: Getting an organic farm up and running in four months! That is June, July, August and September. (When plants recieve enough sunlight to grow.) It is hard to believe looking back to our first seedlings sown in June that we managed to get so many incredible veggies planted. And build and plant a full greenhouse! And get our Winter CSA up and running! Feeding 209 families a week. What a challenge. What sweet reward.
Our Bud: The coming Summer CSA season. As I'm sure you've noticed hanging around us, we are big dreamers. With a big vision. With a full season ahead of us to prepare, plan and grow, we are excited to bring you a full, delicious array of veggies this summer with our innovative approach to Summer CSA.
We are also planning so much more... seedlings, cooking, connecting, events... Needless to say, we have a whole lot of wholesome fun in-store for you this summer, my friends.
On this New Year's Eve Day, take a moment if you can, and tell us looking back over 2020 what were your Rose, Thorn and Bud? Hit reply and let us know. We'd love to hear from you.
Warmest of New Year Wishes,
Jonathan, Jolianne & Milo (& Steph)