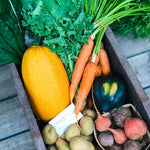 Click Here for 2021 Winter CSA
Let's do like the squirrels & get ready to eat well this winter!

I know we don't really like thinking about winter all that much especially when the sun is shining and the bounty is still coming in from the fields, but the truth is every season has its turn and here at Ottawa Farm Fresh we are already thinking ahead to the winter and planning and digging and building.... a new greenhouse to make sure you get the best organic veggies this winter!

Winter CSA Bounty Baskets are here! ~ 6 bi-weekly baskets 
Become a farm member this winter and receive a weekly delivery of the freshest local, organic vegetables right to your door! Baskets are delivered from November to January. Your basket will contain an assortment of winter staples (such as potatoes, beets, carrots, squash, onions) and hardy greens (kale, spinach), as well as tender greens for as long as the season will allow! On top of that, we're building a micro-greens growing space indoors for some extra delicious treats.

6 bi-weekly baskets, full of fresh, local, organic veggies! 
Basket Formats:
Home delivered baskets will be pre-packed with love just for you. The content of the box is crafted each week based on our knowlege of what most people like eating. 
The on-farm pick-up is "mini-market" style. You craft your box yourself from a list of pre-defined options. This allows you a little more flexibility on what you're getting.
Dates and time of on-farm pick-up (Thursday): Nov 5 & 19, Dec. 3 & 17, Jan. 7 & 21
2 pm-6 pm 
Dates of home-delivery :(Saturday): Nov 7 & 21, Dec. 5 & 19, Jan. 9 & 23
(Note: As of Dec 1, 2020, our home delivery run is full. You can still register to pick up your basket at the farm)
Any of these dates don't work for you? No problem, just let us know and we can just prepare a double basket for you, or schedule a separate time for you to swing by the farm to pick it up.
Prices:

| | | |
| --- | --- | --- |
| | On-farm Pick-Up | Home Delivery |
| Mini (1-2 ppl) | 150$ | 210$ |
| Small (2-3 ppl) | 210$ | 270$ |
| Medium Family (3-5 ppl) | 270$ | 330$ |
| Large Family (5+ ppl) | 330$ | 390$ |
As usual, the best deals happen right at the farm!!
Speaking of building a new greenhouse... Here's a sneak peek!