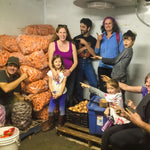 What a Great Carrot Harvesting Party!
Thank you to our amazing farm friends who came out to harvest 2,400 lbs of carrots with us on Saturday. What a ton of fun!
Next year, live music in the field, games and an organic food truck!
In all seriousness, you have helped us get one step closer to sustainable farming for the fall and winter of 2020 & 2021. Thank you for your muscle power, your enthusiasm and your friendship.