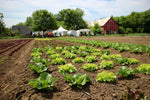 We have a dream for Ottawa Farm Fresh
We want this Farm to be filled with veggies, of course, but we also want it to be filled with nature, with people, with energy, and with fun


We want Ottawa Farm Fresh to be the most fun place you've ever come to fill your kitchen!

We have big plans for the Farm this summer and we're looking for a few special people to bring these dreams to life


We're looking for;
* A massage therapist
* Musicians/bands - folk, blues, DJ
* Catering - food truck, tent caterers, ice cream/gelato
* Local artisans/artists to take part in on-site art & craft shows (pottery, painting, sculpture, carving, natural body care, jewellry, artisan food products etc.)

If any of these sound like you, or you have suggestions, please get in touch. Send us an email at info@ottawafarmfresh.com and we can start a conversation and start making these dreams come true together!