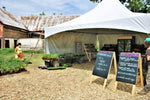 WANTED:  Caring, bubbly passionate foodie!
Do you love organic food? Are you passionate about cooking, eating, and gardening? Are you a top level sales person? Would you love to put your skills to work for the good of the planet and the local community?
Well, look no further. 
Here at Ottawa Farm Fresh, our tight knit team of world class farmers work together to grow and sell top quality organic food...  all this literally minutes from downtown Ottawa.
We're a team on an epic mission: To change the world by grounding our community in the realness of human wholeness through a direct connection with nature and good wholesome organic food.
If you've ever dreamed about what it would be like to be a high-performance, mission driven team, well, it's time to reach out now.
Click here to read more about the job opportunity and to learn how to apply. We look forward to hearing from you soon!