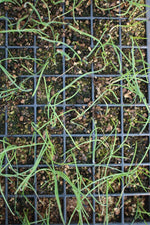 Spring is in the air and things are springing to life here at the Farm!
As the season opening draws nearer we are working hard to make your CSA and Farm Store experience absolutely amazing!
The barn reno is well underway, bringing it closer to being our glorious Farm Store day after day. The renovated heritage barn that has graced this property for more than a century will officially be our Farm Store this year and will offer you an even more amazing shopping experience! The tent has served us well over the past two seasons, but we're ready to move on and up and create a more open and spacious Farm Fresh store, filled with amazing, local farm fresh products for you.

Seedlings season has begun! Tomatoes and onions are already growing in the basement, and as early as next week the greenhouse will be fired up and we'll be starting even more plants - broccoli, cauliflower, cabbage, lettuces. Our goal here is to extend the season as much as possible, bringing you amazing vegetables as early as possible. For instance, by starting our onions in February we can get them planted into the tunnels as early as April and have them in the Farm Store in June!

"I've never tasted a red sweet onion like the ones at Ottawa Farm Fresh! Unbelievably intense sweet flavour unlike anything you can buy at a store, organic or not! and the smell is just sooooo awesome." -Michael Sawada via Facebook

Interviews for this year's awesome Farm Fresh team are happening! If you are a CSA member or Farm Store client you know how amazing all of our team members are. They are all so passionate and dedicated to organic agriculture and bringing you the very best produce, recipes, and cooking tips. It's a really exciting time for us, meeting new people and figuring out what constellation of people will come together as a team over the next few months and take the Farm to the next level!

All of this is the beginning of what will be your CSA basket in just three months. The snow will melt, the insects will awaken from their winter slumber, and the soil will be teeming with the life that helps to make Farm Fresh veggies the most delicious you've ever tasted! We invite you to join us for the amazing season that is to come.