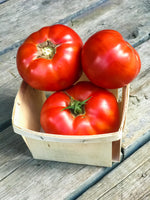 Did you know?
...that at one time the Latin name for the tomato was Lycopersicon Esculentum, which translated to Wolf Peach. In Europe the fruit was believed to be deadly poisonous?
...that tomatoes are native to the Andes and were likely first domesticated in pre-Columbian Mexico by the Aztecs?
...that in their natural growing environment tomato plants are perennial vines that grow blueberry sized fruit?
... they are in the Solanaceae family, which also includes peppers, potatoes, tomatillos, eggplant, petunia, and even tobacco?
...that our greenhouse tomatoes were started in our basement in January and are currently 30-40 feet long?
If you hadn't guessed it, tomato season is upon us and it's time to start filling your kitchen with all things tomatoey goodness!
This week we celebrate all things tomato 🍅
Here at the Farm we don't leave much to chance.
When we are choosing the varieties of vegetables we grow we don't just pick them randomly, we analyse a plethora of factors before ordering those seeds and planting them in the ground. This is more true of tomatoes than just about any crop, because they require so much care and are fundamental to the Farm as a business.
What goes into our growing decision?
- First and foremost, are they delicious? We grow for flavour, not the ability to travel long distances and sit for weeks in a refrigerator.
- Does the variety produce high yields of good quality fruit? We want lots of delicious tomatoes to fill the Farm Store so we want to make sure that the varieties we grow aren't prone to skin splitting and other irregularities.
- Is this variety prone to disease and/or pests? After putting months of work into these plants we don't want them to be attacked by pests or diseases early in the season.
- Last but not least, will this variety perform well in our growing conditions? Every area has a slightly different mini ecosystem - from the soil, to the wind conditions, to the quality of the ground water. What varieties do well here might not do as well in Kanata or Wakefield, or at our previous farm in the Eastern Townships.
We get all of this information from a variety of sources. Seed companies are a wealth of information and we rely a lot on their recommendations. We are also constantly sharing and receiving knowledge from other farmers - learning from each other in an effort to make our local food systems as strong and resilient as they can be!
This is our third season growing tomatoes here at Ottawa Farm Fresh so we have three years of growing experience to build on. Every year we're learning a bit more about this land and what thrives here.
The recent heat has really kicked the tomatoes into top gear and you'll find the Farm Store filled to the brim with a rainbow of tomatoes in all shapes and sizes - perfect for sandwiches, salads, sauces and salsas!
Come and savour the season and taste the difference local makes!
---
This Week's Seasonal Tomato Specials


4L for $20 or 2 for $30
4L for $25 or 2 for $40
20lbs for $45
60lbs for $110
100lbs for $175
Click on the title links to order online and come pick up at the Farm Store this weekend!