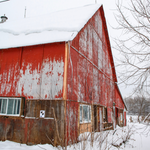 Anyone who has come to visit the Farm will have undoubtedly noticed the behemoth of a barn that sits opposite the farm house. She's a beauty, but boy is she in some state! This enormous agricultural building has graced the property for longer than anyone can remember, and although she's beautiful, she needs a lot of work to keep her on her feet...or foundations.

Jonathan and Jolianne have big plans for this grand historic building, with ambitions of transforming it from a humble barn into the hub of the farm, and the local community. Here you'll not only find Ottawa Farm Fresh vegetables, but also a curated selection of local delicacies and products. This magnificent old building, with airy open spaces and large wooden beams, will soon begin it's new life as a food sanctuary - an inspiring place for foodies and families alike to connect with food, farmer, and community.

The Ottawa Farm Fresh farm shop is going to be unlike any farm shop you've visited before. A local market, designed by food lovers, for food lovers. Gorgeous organic vegetables are going to be the main event, basking beneath the 48' high ceilings, and to make it a complete food shopping experience we'll be sourcing an array of local products to complement our produce. Coffee and tea, kombucha, eggs, cheese, meat, honey, maple syrup, lacto-ferments, and on the list goes.
But wait, there's more! 
Step outside of the farm shop and you'll be immersed in our edible playscape, a space to delight both children and adults. Berry bushes, swings, picnic tables, and little hiding spots will make the outdoor space a haven for children and adults alike.


We are all about creating a community that understands the importance of good food and the importance of our connection with the natural world, and that begins with kids. Coming to the farm shop is sure to be an anticipated weekly outing for the whole family!
Soon enough you'll be able to jump on your bike and head off on the propose expansion of the Mer Bleue cycling path too, it's going to run right along the back edge of the Farm. Did you know that we're only 6km away from the Mer Bleue boardwalk trail (P22)? What a way to make a day of coming out to te Farm!
We Need Your Input
The farm shop vision isn't just about us, it's about you too. We know that for this to be a success we need to make sure that we are meeting your needs. Let's work together to make this the truly epic experience we know it can be. We have created a short questionnaire that will help us shape the farm shop into one that serves the needs of the community, and we would love your input.