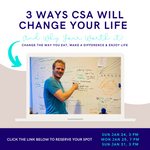 Sign Up for Farmer Jonathan's Webinar:
3 Ways CSA will Change Your Life
Who knew something so small, like changing where you pick up your veggies, could impact your life? 

Join Farmer Jonathan on one of our upcoming webinars to hear how a CSA changes the way you eat, helps you enjoy the simple pleasures and makes a difference in the world. Secure your spot!
Webinar Dates:
Sunday January 24th at 3 PM EST
Monday January 25th at 7 PM EST
Sunday January 31rst at 3 PM EST
Click HERE to sign-up