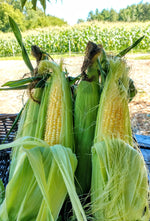 This past week the first sweet corn of the season landed in the Farm Store and CSA baskets.
We might be biassed, but we think it's the very best corn on the cob in all of Ottawa!
Why do we think that? Well, we're pretty proud of the crop after the time, effort, and care that went into it, but we think you'll be able to taste the different do.
How Do We Grow Ottawa's Very Best Sweet Corn?
We grow for taste! We've selected two varieties of corn that we know will not only thrive in our particular area, but that also taste delicious. You'll find a mix of the two in the Farm Store, one yellow (Honey Select) and one bi-coloured (Natural Sweet).
Our corn is hand harvested at the Farm daily, in a field mere metres from the Farm Store. Turn your head to the East from the Farm Store and you'll be looking at the corn field! When it comes to corn, freshness makes all the difference. As soon as it's picked the sugars start to transform into starch, which is what causes corn to become chalky and sticky. All of our vegetables are super fresh, but there are few that this is more important for than corn. Fresh picked makes all the difference!
As soon as the corn is picked it heads straight into the cold room, which slows down the chemical reaction that causes corn kernels to lose sweetness and succulence. A big pickup truck filled to the brim with corn on the cob might look like the epitome of an Ottawa/Gatineau summer, but it's not the best for keeping it fresh and delicious.
Like everything else on our Farm, our corn is 100% organic. Corn plants are heavy feeders, which means that they require proper fertilisation throughout the course of growing. We use only natural, organic fertilisers at the Farm, like compost, alfalfa meal, and pelleted chicken manure to give the plants everything they need to grow big, sweet ears of corn. Organic also means we only grow non-GMO vegetables, including corn.
Storing & Preserving Corn
If you aren't planning to eat your corn immediately, it is best to leave it safely wrapped in its husk, in a bag in the fridge. Cool temperatures keep your corn sweet, succulent, and slow down the product of starch, and nobody likes starchy corn! Corn is best eaten within a couple of days.
If you don't think you'll eat your corn within a few days of bringing it home, then freezing it is a good option. Freezing changes the texture some, but it's definitely nice to pull fresh, local corn out of the freezer in the depths of winter for a sunny taste of summer! And yes, you can freeze corn on the cob! It's true! Just peel it, put it in a sealed bag, and put it in the freezer. Cutting it into smaller pieces makes it a bit more versatile.
You can also freeze corn kernels, either blanched first or raw. Just slice them from the cob, put them in a sealed bag, and freeze.
Corn Recipes
We love to eat our corn pretty simply. Corn this fresh doesn't need many bells and whistles - just boil it for a maximum of 5 minutes and then dig in! There's few more simple pleasures in life.
There are, however, lot of other great ways to enjoy Farm Fresh corn, some of which will help you to savour it well into the winter.
This recipe was recommended by our Marketing and Events Co-ordinator, Amanda. She loves the fresh flavour of this salsa compared to traditional cooked salsa, adding a summer burst to meals all year long!
Corn 'Ribs'
Corn ribs? Yup, you read that right! When prepared in this manner corn makes a pretty delicious vegan stand-in for regaular BBQ ribs. Who knew?!
This corn salad is summer in a bowl. The fresh flavours of corn, cilantro & pepper pair perfectly with creamy avocado. You've just found your go to potluck recipe. You're welcome!
The corn season is short and sweet, so make sure you take full advantage of it while it lasts. 
CSA members will receive corn in their baskets again this week, but if you want to stock up for the winter, or boil up a big beautiful pot of corn for your next backyard BBQ you can order in advance online to guarantee you won't miss out!