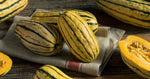 Delicata squash are a favourite here at the Farm. So delicious and versatile, and you don't have to worry about peeling them because the skin is thin enouch to eat!
Stuffing these little autumn delights makes for a simple and delicious week night meal served with a green salad, or slice into smaller portions and use for a side dish.
Vegan Stuffed Delicata Squash
1 delicata squash*, halved lengthwise, seeds removed
1/2 red onion*, diced
1 cup additional fall veggies* (brussels sprouts, bell peppers, mushrooms, kale, spinach)
2 cloves garlic*, minced
1 cup cooked quinoa
2 Tbsp hazelnuts or pecans
chopped parsley*, cilantro, or thyme, to garnish
dried cranberries or pomegranate seeds, to garnish (optional)
curry powder, salt, and pepper to taste
Tahini Sauce
2 T tahini
1/2 t garlic powder
1/2 of a lemon, juiced
    -
Preheat oven to 400°F. Lightly oil cut side of squash & season with salt, pepper & a sprinkle of curry powder.
Place delicata cut side down on parchment lined baking sheet, roast for 25-30 min, until softened and browned.
Meanwhile, sauté the onion & veggies over medium heat, adding the garlic and greens at the very end. Toss with cooked quinoa & season with cumin, salt & pepper.
Stir the tahini ingredients together in a cup with a fork, adding water to thin.
Fill the delicata boats with the quinoa veggie mixture, drizzle with sauce & garnish with nuts and herbs.

Sausage Stuffed Delicata Squash
2 Whole Delicata Squash*
1 lb Ground Italian Sausage
¾ cup Shredded Mozzarella Cheese
½ cup Marinara sauce
¼ cup Ricotta Cheese
¼ cup Parmesan Cheese
1 tsp Italian Seasoning
Salt & Pepper, to taste
    -
Slice tips off delicata squash, split in half, oil lightly & season with salt and pepper.
Roast for 15 min at 400 degrees F.  Poke with a knife to check if done.
While squash is roasting brown off ground sausage, drain on paper towel. Combine sausage with cheeses, Italian seasoning & marinara
Stuff sausage mixture into the delicata squash halves, top with shredded mozzarella. Cook at 400 degrees F for about 5 more min until cheese has melted.