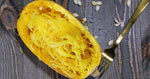 As if spaghetti squash wasn't delicious enough, now add come cream and cheese! This spaghetti squash and cheese casserole is a real crowd pleaser - consider trying it out at the next family potluck!
Spaghetti Squash and Cheese Casserole
3 T butter
1/2 c heavy cream or coconut milk
1 t salt
½ t pepper
Dash each cayenne & nutmeg
1 1/2 c white cheddar cheese, shredded
3 c cooked spaghetti squash*
2 tomatoes*, cut into ½" slices
½ c parmesan cheese, finely grated
2 t olive oil
    -
Pre-heat oven to 350 degrees. Butter 8x11" baking dish

Place butter, cream, salt, pepper, cayenne & nutmeg in medium pan over medium heat. Bring to simmer, stirring occasionally - do not scald. Whisk in cheddar cheese, stir until melted. Remove from heat, add cooked spaghetti squash, mix to coat with sauce.

Pour mixture into prepared dish, spreading out evenly. Arrange sliced tomatoes on top & sprinkle with parmesan. Drizzle olive oil & bake for 50 min, or until tomatoes are roasted & edges are browning. Cool 10 min before serving.

To bake spaghetti squash: Preheat oven to 400F. Cut squash in half, stem to blossom end, remove seeds. Place squash halves cut side down in large baking dish. Prick skin with fork a few times. Bake 1 hour. Use fork to pull flesh into 'spaghetti'. Alternatively, microwave squash halves in a pan with a bit of water for 12-15 min.
The Grain-Free Family Table Cookbook