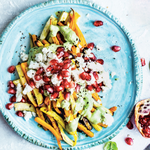 Root Veggie Ready!

As we thaw out our fingers from frosty field harvesting and wind things down at the on-site Farm Store for this year, we have already started dreaming of all the possible root veggie recipes we can share with you!

So, for all of you who signed up for our Winter Bounty CSA here is a recipe to get you drooling...

Roasted Root Medley with Lemon Tahini Dressing

Thanks to Clean Eating website for inspiring this recipe and photo:
Ingredients:

4 carrots, cut into sticks

4 parsnips, cut into sticks

2-4 potatoes, cut into sticks

4 snow drop radishes, cut into sticks

2 tbsp crumbled full-fat feta cheese

2 tbsp pomegranate seeds

Dressing:

5 tbsp olive oil

¼ tsp sea salt and ground black pepper

1/4 cup tahini

1/2 cup fresh lemon juice

3 tbsp nutrional yeast

1/3 cup olive oil

3 tbsp water

1 tbsp raw honey

Preparation:

1. Preheat oven to 375°F. Divide carrots, parsnips and potatoes between two large baking sheets. Drizzle 1 tbsp of the oil over each sheet of veggies and sprinkle with salt and pepper. Toss to coat. Bake until softened and brown on edges, about 30 minutes.

2. Meanwhile, in a small blender combine all dressing ingredients and add salt and pepper. Blend until smooth. Add 1 to 2 tbsp water to thin, if necessary, to achieve a drizzling consistency.

3. Arrange vegetables on a platter, drizzle with dressing and sprinkle with cheese and seeds.