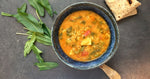 There might be a lot of ingredients in this Dahl Soup recipe, but don't worry, it's surprisingly easy to make - and it's oh so worth it! It's like a warm hug on a cold day, and filled with so many Farm Fresh flavours!
Dahl Soup
3 T coconut oil
1 t each cumin seeds, fennel seeds, & ground turmeric
2 onions*, halved and thinly sliced
3 garlic cloves*, finely chopped
3 ribs celery*
2 T finely chopped fresh ginger*
2 small fresh red chiles*, thinly sliced
1 quart chicken stock or broth
One 14-ounce can unsweetened coconut milk
2 C red lentils, picked over (13 ounces)
2 T chopped cilantro stems*, plus chopped leaves for garnish
2 C kale* stemmed & leaves coarsely chopped
2 C cherry tomatoes*, halved
1 1/2 t fresh lemon juice*
Salt & pepper
  -
In a large saucepan heat 1 T of coconut oil. Add cumin, fennel & turmeric, cook over moderate heat, stirring constantly, until fragrant, about 1 min. Stir in remaining 2 T of coconut oil & onions, cook until softened. Add garlic, ginger & half sliced chiles, cook 1 min. Spoon half the spiced onion mixture into a small bowl & reserve.

Add chicken stock, coconut milk, red lentils & cilantro stems to the saucepan & bring to a simmer. Cook over moderately low heat until lentils are tender, about 20 min. Add cherry tomatoes, cook 10 min. Add kale, cook 5 min. Stir in lemon juice & season with salt & pepper.
Spoon dahl into bowls & top with reserved onion mixture & sliced chiles. Garnish with chopped cilantro & serve with lemon wedges.
www.foodandwine.com/recipes/red-lentil-dal-coconut-milk-and-kale