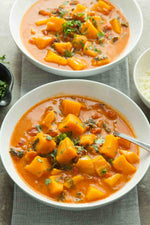 Warming, delicious, nourishing, and easy to boot! This Thai style butternut squash curry is a great weeknight meal that the whole family will love.
Butternut Squash Curry with Coconut Milk
1 Tbsp coconut oil
2 Tbsp Thai red curry paste
2 small garlic cloves, finely grated
1-inch piece fresh ginger, peeled and grated 1-inch piece fresh turmeric, peeled and grated One bird's eye chili, finely sliced (omit for less spice)
1/2 tsp fine sea salt
1 can coconut milk
1 can diced tomatoes
½ c water
1 pound butternut squash, peeled & cubed
4-5 chard leaves, stems removed & sliced thinly
Protein (if desired) Chicken, chickpeas, cubed tofu
Chopped cilantro, for serving
Cooked rice,  for serving—
Heat the coconut oil in a large pot over medium heat, add the curry paste, garlic, ginger, turmeric, chili pepper(if using) & salt, fry for 1 minute until fragrant, then stir in the squash & gently stir to coat pieces.
Add coconut milk, diced tomatoes & water to the pot & bring to boil. Reduce to simmer & cook until squash is tender, (about 15 min). Add chard & cook until leaves wilt, (about 5 min).
Garnish with chopped cilantro & serve warm on its own or with rice on the side.