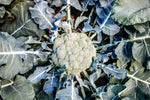 Is it a soup or a pasta sauce? It's unclear, but it's delicious! Bright and fresh flavours, simple to make, and thoroughly nourishing - there's nothing not to love.
Broccoli Basil Broth

1 T + 1t sea salt
6 oz pasta
5 garlic cloves, minced
1 T coconut oil
3 onions, chopped
4 C vegetable broth
1 head broccoli, stalk removed and florets separated
2-3 T lime juice
1 T maple syrup
1 T ginger, peeled and minced
1 C basil leaves
---
Cook the pasta in a medium saucepan filled with boiling water and 1 T sea salt until al dente. Drain and cover. 
Melt the coconut oil in a large stockpot over medium heat. Add the onions and 1 t salt and cook for about 10 minutes. Add the garlic and cook for 2 minutes more. 
Add the broth, bring to a boil, and reduce heat to low. Add the broccoli, remove the pot from the heat, and let sit for 5 minutes. 
Transfer the soup to a blender and blend until smooth. Add the lemon juice, maple syrup, ginger, and basil leaves. Blend and season with salt. 
Serve soup over noodles and garnish with basil, olive oil and sesame seeds.
---

Naturally Nourished - Sarah Britton