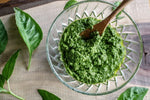 In our opinion, the very best way to enjoy Farm Fresh basil is as pesto. This simple Italian sauce is so versatile, and puts summer basil right in the spotlight, where it deserves to be!
If you've never made it yourself, we encourage you to give it a try. It is infinitely customizable to your taste, and can be used in so many different ways. Yes, you can blanket pasta in the warm flavours of pesto, but it's also great as a sandwich spread, mixed with some mayo as a veggie or chip dip, or used as part of a summery salad dressing.

Basil Pesto
4 C fresh basil leaves (one 250g bag)
1/2 C extra-virgin olive oil
1/3 C pine nuts (sub sunflower seeds, pumpkin seeds, walnuts, almonds or cashews)
2 garlic cloves or 6 garlic scapes
1/2 C freshly grated Pecorino and/or Parmesan cheese
3 T lemon juice
1 t salt
---
Combine basil, oil, nuts or seeds, lemon juice & garlic in a blender. Blend until paste forms, stopping often to push down basil. Add cheese & salt, blend until smooth. Transfer to a small bowl.
Store in a sealed jar covered in a thin layer of oil for 4-5 days. Freeze in small portions for later use.