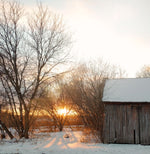 Have you ever wondered what farmers do in the winter?
The fields might be covered in snow, but we continue to "farm" nonetheless. The winter is a time for reflecting, planning, and organizing, all in preparation for the planting season to come.
As the farm slows down and transitions into winter, so does our schedule. Mornings don't start so early anymore, and with less physical labour to be done in the fields, we shift more towards the intellectual work of planning and preparing for seasons to come.
Believe it or not, this week Jonathan will be starting the crop plan for next year! He'll start by analysing this year's crops and harvests, and then start to plan next year's planting and harvesting schedule. Seed orders, fertiliser, and equipment will be ordered, employees will be hired, and the barn will continue to be renovated, all laying the groundwork for next season.
You know what else we do? Rest! We work hard all summer and winter is the season that we can invest more time into our other passions - cross country skiing, acro-yoga, and becoming more connected to our local community.