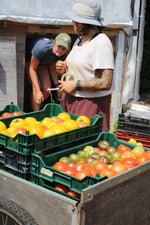 Do you love cooking, eating, gardening, and discovering all sorts of new ways to use veggies!?
Do you love connecting with other food lovers and inspiring people with the most amazing recipes and kitchen tips?
Would you love to play a key role in the local food system?
Are you someone who gets a great sense of satisfaction from keeping things organised and running smoothly?
Super!! Let's meet!
Ottawa Farm Fresh is a diversified vegetable farm, full-diet farm store, and agro-wellness destination located less than 12 minutes from Parliament Hill. We believe in mind-blowing quality. We believe in the ability of food to transform the way we interact with the environment, with each other, and with our own bodies and minds. 
Our goal is to stop our clients in their tracks when they bite into one of our products and realise that they've just tasted the best carrot they've ever tasted. Our mission is to transform how people connect to their food, their bodies, and the environment… one bite at a time!
To accomplish this mission, we are building a mighty team of top-notch farmers. Our vision is that as team members gain experience and knowledge, that they progressively take on greater responsibilities in their second year with the possibility of purchasing shares in the business in the future. 
What we love about our farm store team members:
The irresistible urge to talk about food and share the latest recipe or kitchen trick. 

Excitement about the products and enthusiasm for inspiring people to buy more of the amazing products

A sense of goal-orientation and an excitement at reaching ever higher weekly sales goals. 

An acute observational skill and the ability to prioritize and focus energy on the key tasks (i.e. juggling re-stocking, talking with clients, and check out) without feeling overwhelmed by the different demands of the position.

A love of checklists and ability to consistently utilise them. 

A keen sense of beauty and organisation. 

Physical strength, endurance, and agility. The ability to lift heavy boxes and be on your feet all day.
Job Description
As Farm Store Coordinator, your job will include all the tasks of a Farm Store Team Member, plus working closely with Jonathan and Jolianne to:
Manage inventory.

Place orders with the various suppliers.

Ensure that all records are kept up to date and accurate.

Organising the farm store, creating displays, printing labels and recipes, and optimizing the flow.

Receiving orders.

In the summer: Being part of the veggie washing and packing team on Wednesdays and organising the cold room. 

In the winter: Washing and prepping veggies stored in the cold room.

Making sure all checklists, SOPs (Standard Operating Procedures), and manuals are accurate and up to date. Creating new ones as needed.

Hours:
Summer (Mid-May to end of Oct))
40-45 hrs per week 

Approximate schedule is as follows (will vary throughout the season)

Tuesday 9-5 (admin + prep + farm work)

Wednesday 7-4 (harvest + prep)

Thursday 10-8 (farm store)

Friday: 7-4 (harvest + farm store)

Saturday: 8:30-5 (farm store)

Sunday and Monday: Off
Winter (Nov to mid-May)
25-40hrs per week

Monday to Friday or Tuesday to Friday depending on workload.

The farm store is closed for 6 to 8 weeks from approximately Jan 1 to Feb 15. During this time you will have 2 weeks off and the remaining weeks you will be working part time on winter projects and prepping for re-opening.
Remuneration

$3000/month

A weekly Medium Family CSA Basket (55$ retail value)

Group Benefits available including dental.

15% off all in store products
To apply, please email your CV and a cover letter to
info@ottawafarmfresh.com
. In your cover letter, please refer to specific life and work experiences that demonstrate the above mentioned qualities and traits that make our team members outstanding. Also mention any other tangential skills that might be useful on a farm (photography, welding, nature education, yoga, etc).