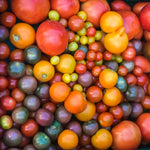 The Early Bird gets the... Veggies!
Were you around last summer? Did you get a chance to see our fields and Farm Store bounty? It was a whole lot of organic vegetable goodness, BUT it's going to pale in comparison to what we have planned for YOU this summer!
With all winter to plan and the spring to sow... well, it's kinda like watching Santa in his workshop these days when you find Jonathan at his computer mulling over his field plans - He's got this intensity as he scribbles and looks things up and scribbles some more and just when you think you'd better leave the madman to his art, he'll turn around with a laughing sparkle in his eye and say something like, "Awww.. I'm thinking I might, just might, grow broccoli for our Summer CSA members only... hmmm.. what do you think?"
Of 'course I answer him with a "Heck, Ya!" and then leave him to his renewed feverish scribbling.
The thing is this is Jonathan's area of genius and like you, I am so thankful to have him right here, in Ottawa growing food for us.
That takes us to Summer CSA and the way it works to let farmers get down to the work they love without having to worry about growing too much or too little.
CSA or Community Sustaining Agriculture works this way:
You, the community, say, "Yes, we want to eat your delicious organic veggies all summer," and purchase a share of the summer bounty. Then with a good idea of who he is feeding this summer and some funds, Jonathan gets to work planning, purchasing and planting to feed all of us!
Your Yes + Funds + Farmer + Hard Work = Organic Bounty + Healthy Community + Healthy Farmer
Summer Abundance CSA Basket Subscription
Do you want amazing garden-fresh, organic veggies for your family all summer long?
Let's team up!
We'll grow the food, you eat it! Partner with us and Mother Nature to enjoy an amazing summer of veggies straight from our fields.
Our summer CSA subscription is super simple, super flexible, and super delicious. No more scheduling hassle and no more being forced to eat certain veggies you don't want. This is CSA 2.0!
Come to the Farm Store each week and assemble your basket yourself based on the suggested basket content. (Farm Store Hours: Wednesday to Sunday, 11 am to 7 pm) Don't like a certain vegetable, no problem, simply trade it for a different one.
Away on vacation? Easy-Peasy, simply tell us how many weeks you'd like off and we'll adjust the price accordingly.
As a farm member, you get 10% more veggies. (talk about a great, Green-Investing option for your portfolio!)
Our Summer CSA Basket Subscription runs 22 weeks, from June 2 to Oct 31, 2020.
Choose between paying in one instalment, or three equal instalments (The first instalment upon registration, then June 7th and August 1st). A 20$ admin charge applies for the 3 payments option.
Please indicate how many weeks off you'll need. If you're not sure, no problem, we can alway reimburse you later for weeks that you're away.