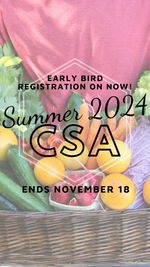 Summer 2024 Early Bird Registration On Now

You folks are simply amazing. The Winter CSA hasn't even started yet and so many of you are already asking us when you can register for next summer! To be surrounded by so many people that are as enthusiastic about veggies as we are is a delight. It is dedicated folks like you that ensure that small-scale organic farms like ours are successful. It is an honour to be your Farmers and we salute you for being part of this local food revolution with us.
So here it is, the 2024 Summer CSA Early Bird special!

When you register before midnight November 18 you'll get;

* Your 2024 CSA at 2023 prices

* A bonus gift card to stock up amazing local foods at the Farm Store next summer!

Basket Bonus Gift Card
Mini $15
Small $20
Medium $25
Large $30
 
So don't wait, the Early Bird special ends November 18th and you won't want to miss out on this great deal!