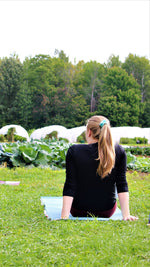 The spring has sprung, the birds are chirping, and the earth is bursting with new life. What better time to honour the mother figures in our lives, and the mother that nurtures us all - the divine mother earth.
Plant your soles on the earth and join us to absorb some of that rising spring energy on Saturday May 7th, when Caroline Śraddhā Monette returns to the Farm for a mindful, all-levels yoga class followed by kirtan. Come for one or the other, or treat yourself to a full morning of self-care at the Farm!
Yoga: 9am-10am
Free for Farm members & moms, $15 for non-members.
Moms: Contact us at info@ottawafarmfresh.com to register if you aren't a farm member.
Farm Members: Use the membership code from the newsletter at checkout
Kirtan: 10:30am-12pm
by donation
Yoga:
Caroline Śraddhā Monette has been practising yoga for more than a decade. She strives to make yoga accessible to all, so that you can begin your practice no matter where you start from. Saturday's class will be inspired by the Sivananda sequence, but will not have all its intensity. It will be a complete series of warm-up exercises and asanas, with the poses done slowly and mindfully. The final relaxation will be accompanied by guitar and gentle sung mantras, benefiting the full body and mind.
Kirtan:
If you have never experienced Kirtan, you are in for a treat! Śraddhā will be there to act as your guide, lead us through a selection of multi-faith meditative chants and mantras, leaving you feeling energised and with a sense of inner calm. Don't worry if this is something that you have never experienced before - all are welcome to join us to feel the transcendence and connection that kirtan can provide.
www.facebook.com/sraddhakirtan
No experience or musical skills are required. Children are welcome but we ask that they be willing and able to maintain a calm atmosphere.