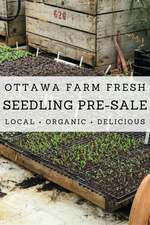 We love to grow food, and we want to share that love with you. Getting your hands in the soil, building a connection with the earth, and taking the time to appreciate the perfection of a seedling bursting into life - it's all good for the soul. This is why we're so excited to announce the first annual Ottawa Farm Fresh Seedling Pre-Sale!
We, Farmers Jonathan and Jolianne, have spent more than a decade tending vegetables in this geographic region. We know what varieties thrive in our climate, and how to produce vigorous seedlings that will flourish in your garden. Let us take the worry out of crop selection and propagation - all you have to do is plant your garden and watch it bloom.

How does the seedling pre-sale work?

Good question! 

Head to the website and make your selection from the 25+ vegetables, herbs, and flowers we are offering. Once your order is placed your seedlings will be reserved, and we'll spend the next ten weeks planting, tending, and loving your little veggie plants. Come the long weekend in May (May 20-23, 2021) we'll have your plants ready for you to pick up at the Farm.

We anticipate high demand so we encourage you to order soon.

What about seeds?

We've got you covered there too!

In the spring we'll be stocking a full range of seeds from Northern Seeds, an organic seed supplier based locally in the Gatineau hills.