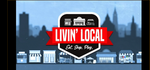 Did you catch Jonathan's big TV debut on March 29th? Ottawa Farm Fresh was a featured business on Livin' Local on the
CTV News Ottawa
, a segment that sounds made for us! We are all about livin' la vida local!
As a small business one of the biggest challenges is simply getting your name out there and connecting with the community. Local news programs and segments like Livin' Local offer an audience boost that small businesses like ours could otherwise only dream of. We can't thank
CTV News Ottawa
enough for featuring us and welcome to all the new friends who they helped us find!