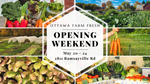 We are thrilled to announce that our Season Opening Weekend will be May 20-24, 9am-5pm! We have been waiting all winter to welcome everyone back to the Farm and we can hardly wait!
Book your time slot to come to the Farm and,
Pick up your seedlings (pre-sale online)
Stock up on the first of our farm fresh veggies
Choose organic garden seeds from Northern Seeds
Speak to Farmer Jo about your home garden
Go for a walk around the Farm to see what's growing
Bring a picnic to enjoy in the calm of our farm fields
Savour a barbecued all-beef hotdog, veggie dog, or chill out with an organic ice cream. Yum!
Farmer Jo will be on hand Saturday and Sunday, 9am-11am and 3pm-4pm to look at your garden soil samples or analysis, and just talk all things gardening, book your time slot accordingly and come ready with your questions.
Worry not if you weren't able to grab veggie, herb, or flower seedlings in our pre-sale, we'll have some extras for sale at the Farm Store over the weekend on a first come, first serve basis.

Given the excitement around the farm and the number of seedling pre-sales, we're anticipating a whole lot of people at the Farm over the weekend. In order to keep things manageable and minimise crowds, we are asking you to book a time slot for your visit at the Farm. Please book your visit for all activities - picking up seedlings, visiting the Farm Store, staying for a picnic, or speaking to Farmer Jo about gardening. All time slots are 45 minutes long and begin on the hour.
We've got a whole slew of other family friendly activities in the works! Stay tuned via social media and our newsletter for more information as we monitor the evolving regulatory environment regarding events.