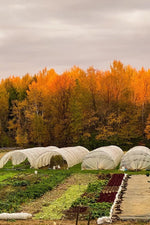 We've done it! Together we have spent an entire season growing and eating great organic food!
What an amazing season it's been, filled with challenges and creative solutions, successes and failures, smiles and new friends. Over the course of the season we have seen the Farm community grow, with more people every week visiting the Farm Store, attending events, and joining our ever-expanding CSA.
We salute each and every one of you for taking the time out of your busy lives to visit the Farm week after week, for trying new and unusual vegetables, and for taking on the commitment of living your principles and eating local all season long. We are honoured that you have chosen us to be your Farm; thank you for being part of our dream to bring amazing organic food to Ottawa!
Let's keep the momentum going and keep this veggie train cruising right through to next season!
Show the love: keep filling your kitchen with great local food by registering for the Winter 2021 and/or Summer 2022 CSA!
Spread the love: tell your friends and family about the Farm. Forward the newsletter, tell a friend about the Early Bird special, or let your family taste our incredible carrots at your next potluck. We know that the proof of the pudding is in the tasting - we're confident that once they taste our veggies they'll never go back to imported grocery store produce.
Share the love: as a small business one of the most helpful things you can do for us is leave a review on Google. Your heartfelt reviews are of immeasureable value, and this simple act does us a world of good! Click here to leave a Google review.