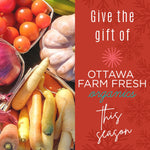 A gift that your nearest and dearest are sure to love while also supporting your local community.

We have something for everyone on your list - the foodie, the eco warrior, the wellness lover, the home gardener, and anyone who loves finding something unique under the tree!
Seasonal CSA Subscription & Sampler Basket

Nothing says I love you like a season of Farm Fresh vegetables.

Our seasonal CSA subscriptions are super flexible and super delicious - a gift that will feed the heart and soul of your loved ones all summer long! Simply choose the size and number of weeks you'd like to gift, and we promise to fill their kitchen with Ottawa's best organic veggies every time they visit. With a wide pick up window, flexible vacation weeks, and our free-choice model you'll be gifting Ottawa's most flexible CSA - one that will suit anyone's lifestyle and schedule.

Not sure that a full season CSA is right for them? Give a taste of Ottawa Farm Fresh with a 4 week CSA Sampler. They can come to the Farm Store anytime we're open during our 2023 summer season to try out Ottawa's best CSA. Come 4 weeks in a row, or just pop in once a month for some Farm Fresh goodness - whatever works for them.

The care, skill, and passion we have for farming can be tasted in every vegetable we grow, and we know that once your loved ones taste the difference that Farm Fresh makes they'll be thanking you!
GIVE THE GIFT OF FARM FRESH VEGGIES
Ottawa Farm Fresh Gift Card
A gift card is always perfect - simple, thoughtful, flexible, and fun to use!

We all need a little piece of farm life, whether that is fresh organic vegetables, walking the farm fields and gaining an awareness of the cycle of the seasons by observing the changes in the garden, or showing children how and where their vegetables grow - a gift card encourages all this and more!

What can gift cards be used for?

* Anything & everything in the Farm Store - veggies, eggs, meat, dairy, coffee, preserves, baked goods, and so much more!

* Seedlings and gardening supplies ordered online & in the Farm Store.

* Farm Fresh events - Tai Chi, Yoga, nature walks & cooking demos, to name a few.

Gift cards are available in a variety of denominations and can be redeemed online or at the Farm Store. After placing your order online a digital gift card will be emailed to you. This can be printed or simply forward the digital copy to the recipient.

ORDER YOUR FARM FRESH GIFT CARDS
CSA Accessibility Fund
It's the season for giving, and at a time when so many people are struggling with food insecurity, this is more important than ever.
This year we launched our CSA Accessibility Program and it has been a huge success! The generous contributions that the Farm community have made to the fund have allowed us to offer subsidised CSA shares to a number of families who would otherwise not be able to access regular, high quality, organic veggies - something that should be a right, not a luxury.
The CSA Accessibility fund is still growing and with your contributions we hope to be able to help even more families next year. Simply head to the website to make a contribution, and together we can keep filling kitchens with Ottawa Farm Fresh veggies!
CONTRIBUTE TO THE CSA ACCESSIBILITY FUND