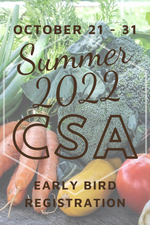 From October 21 to 31st we will be offering the best deal you can imagine on our Summer 2022 CSA. Lock up your spot between these dates and you will be treated to a trifecta of treats that will not be offered at any other time.
You'll pay the 2021 price for your CSA basket
You'll receive a bonus $20 gift certificate that can be used for absolutely anything at the Farm - veggies, events, even ice cream!
Pay it forward - for every CSA that is reserved during this period we will commit to donating $20 worth of produce next season to the local food bank
To reserve your spot you can pay the full amount or make a $50 deposit and pay in installments later - whatever works best for you!
Click here to learn more about our CSA program and get ready to book on October 21st!