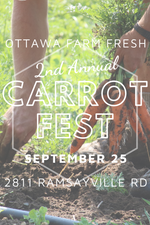 2nd Annual Carrot Fest!

September 25 (rain date Oct 2)

Communities have been coming together to bring in the harvest for thousands of years, working collectively towards the common goal of preserving food for the winter. As we have become increasingly disconnected from the act of producing our own food this has become a rare event, with the harvest left solely to the hands and machines of farms, in fields that many people never have the opportunity to see.

We want to change that!

Join us on September 25th at the Farm to connect to your food, farm, and community. Let's bring in the harvest together!

There will be food from the Gather Café + Kitchen food truck, music, and a whole lot of carrot pulling!

Use the form below (or click here) to register for a morning or afternoon time slot and meet us in the carrot patch!
Children and families encouraged!