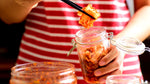 Traditional kimchi includes dried shrimp or fish sauce, making this amazing Korean super-food a no-go for vegetarians and vegans. This recipe substitutes seaweed for the fish, giving a great flavour and adding the additional nutrition that seaweed offers.
Vegan Napa Kimchi Recipe

3 cups napa cabbage (750g) (half a medium cabbage)
1 medium carrot (50g)
¼ daikon radish (50g)
2 cloves garlic (40g)
1 inch ginger (30g)
2 T (30 g) gochugaru chili flakes
1 T (20g) fine sea salt
10g wakame and kombu seaweed
---
Cut the napa cabbage into pieces about 1 inch wide. Slice rest of veggies.
In a large bowl, mix all the vegetables with the salt, chili, and seaweed. Gently massage the ingredients for 1 to 2 minutes, or until vegetables are well soaked.

Fill the jar, packing carefully as you go to remove any air pockets. Leave some space at the top of the jar (about 2.5cm/1 inch).
 
Place a weight (pebble) over the vegetables. Let them ferment at room temperature for 5 days. Start tasting after 3 to 4 days. Store in the fridge to stop fermentation.
---
revolutionfermentation.com/en/blogs/fermented-vegetables/napa-vegan-kimchi-recipe