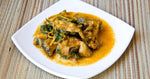 This simple fish curry recipe is perfect for a week night meal when you just can't think of what to cook!
Thai Coconut Salmon with Spinach

2 t oil                   
1 c onion, chopped                   
1 clove garlic, minced                   
1 T ginger, minced                   
2 t curry powder                   
1 can coconut milk                   
1 T lime juice                   
1 T fish sauce                   
½ t Thai red chili paste                   
1 pound frozen wild salmon, cut into small pieces
4 c spinach
-
Heat oil in a large saucepan over medium heat.
Add onion, garlic, ginger & curry powder, saute for about 4 min until onion is softened.
Mix in coconut milk, lime juice, fish sauce & red chili paste. Bring to a boil, then reduce heat & simmer for 3 min.
Add salmon to sauce pan, cover the pan & let cook for four minutes.
Add spinach to top of salmon, cover pan & cook for 4 more min.
Serve over rice or rice noodles.