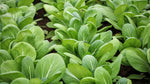 Sesame Ginger Carrot Noodle Stir Fry with Bok Choy & Crispy Tofu
2 T soy sauce or tamari
2 T rice vinegar
1 T each: dark sesame oil and cornstarch (or arrowroot)
1 t each: honey, Sriracha, and oil.
2 inch piece of ginger, finely minced
3 cloves garlic, finely minced
Juice from 1 lime
16 ounce package of medium tofu, pressed and cut into squares
1 t soy sauce, gluten-free, if needed
5 large carrots
1 T oil
2 bok choy
Cilantro, lime, and sesame seeds, to garnish
---
Whisk together the soy sauce, rice vinegar, sesame oil, starch, honey, sriracha, oil, ginger, garlic, and lime juice.

Heat a large frying pan over medium high heat and cover with enough oil to coat bottom. Fry pressed tofu on all sides. Add to a small dish and toss with soy sauce/tamari.
 

Use a spiralizer to make noodles out of the carrots. Or peel and slice into long thin strips. 

Trim bok choy and separate dark green tops from white stems; leave tops whole and thinly slice stems.

Add carrot noodles and bok choy to a large skillet over medium high and toss a few times. Let cook for about 2 minutes. When the carrots start to soften, add the sauce and tauce. Let cook and thicken for 1 minute, remove from heat and add tofu. Top with preferred garnishes! 

www.theendlessmeal.com/sesame-ginger-carrot-noodle-stir-fry/