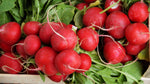 Roasted Radishes & Avocado with Sesame Salt

15-20 radishes
1 T coconut oil, melted
1 avocado, large and ripe
1 lemon
Chives, minced
½ C sesame seeds
1 ½ t fine sea salt
---
Preheat the oven to 400. Slice radishes in half and place on baking sheet, toss with coconut oil. Roast until tender and blistered, about 20 minutes. Remove from oven and let cool.

Toast sesame seeds over medium heat in a large dry skillet, stirring occasionally, until fragrant, for 2-3 minutes. Watch them carefully as they burn quite quickly! Transfer to a food processor with the salt and process until about half the seeds are broken. Mixture will keep up to 2 months in an airtight jar.

Pit and peel the avocado, slice into cubes. Divide radishes and avocado onto 3-4 serving plates. Pour half the lemon juice over the vegetables, adding more if desired. Sprinkle with chives and sesame salt. 
Naturally Nourished - Sarah Britton