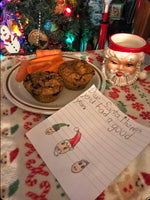 This recipe comes to us from a CSA member Rachel, who has started making these delicious gluten-free muffins on high rotation! They are even good enough to leave out for the big guy on Christmas Eve!
Pureed butternut squash is Rachel's 'pumpkin' of choice, but any pureed orange squash will work.
Gluten-Free Pumpkin Muffins
2 c gluten-free rolled oats
1 c canned pumpkin puree
½ c maple syrup
2 eggs
¼ c canned coconut milk, or milk of choice
1 t baking soda
1 t pumpkin pie spice
¼ t salt
½ c chocolate chips(optional)
-

Preheat oven to 350°F.

Add all ingredients except chocolate chips to a blender & blend until smooth.

Fold in the chocolate chips.


Pour batter into a lined muffin tin.
Bake at 350°F for 15-18 minutes, or until a toothpick comes out clean.


Allow the muffins to cool on a wire rack.

Store the muffins in the fridge for 4-5 days.