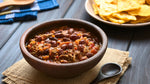 Autumn calls for big pots of warming chilli! This recipe is filled with Farm Fresh veggies adding fresh flavours to this classic winter warmer. Make a big pot and freeze it in smaller portions for easy dinners later in the season.
Cherry Tomato Chilli

1 pound ground beef
1 C yellow onion*, chopped
4 garlic* cloves, minced
1/2 bell pepper*, chopped
1 celery stalk*, chopped
1 medium carrot*, chopped
18 cherry tomatoes*, chopped
3/4 C tomato sauce
1/2 C water
1 T chili powder
2 t cumin
1 t each oregano* & coriander
1/8 t cinnamon
dash cloves (powder)
Salt & pepper to taste
3 C cooked black or kidney beans, rinsed and drained
1 T lime juice
3 T cilantro*, chopped
    -
Place beef in large pot & begin browning. Add in the veggies & stir to cook for 2-3 min.
Add tomatoes, tomato sauce, water, spices & beans.
Bring the pot to a bubble, lower heat to a simmer. Cover pot & cook chili, 30-90 min.
Add lime juice and cilantro. Season to taste. Let simmer uncovered 10-15 min to thicken, if desired
.
https://www.oatmealwithafork.com/best-vegetable-beef-chili