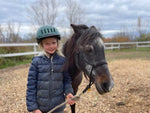 Introducing Milo and his buddy, Sugar.
Milo visits Sugar every week at Stillwater Stables for a homeschooling group and these two have become the best of friends.

Milo's connection with horses isn't a surprise because he's been around them right from the start. At our previous farm, Ferme Mélilot in Dunham, Quebec, we worked the fields with horses, so they were a daily part of our lives for years.


The first farm that we worked together on as a couple was Orchard Hill Farm, a 93 acre organic market garden powered by Suffolk Punch draft horses in Sparta, Ontario. Ken and Martha Laing at Orchard Hill Farm are pioneers of organic agriculture in Canada and our experience with them shaped us, including their commitment to working with draft horses. We started our own farm a year later, and once we secured a 5-year lease we brought on our own team of horses, Bill and Molly.
While the dependability of a tractor is great (as Jonathan will tell you), working the land with horses has a particular magic of its own. They contribute to the rhythm of the farm, and provide a unique connection that a tractor alone can't replicate. There is also something deeply therapeutic about regular connection to a creature as sensitive as a horse - teaching us the difference between leadership and domination, the importance of body language and breath control, and that there is safety in gentleness.
Above: The four of us were featured on the show La Semaine Verte on Radio Canada

Just before we arrived in Ottawa, Jolianne had just completed a five week Natural Horsemanship internship in Costa Rica, a practice she had begun dabbling in at Ferme Mélilot. Although we knew that we wouldn't be working with horses at the new farm we still wanted to be involved with horses, and so immediately began looking for a local stable that practised Natural Horsemanship. To our delight we found Stillwater Stables only five minutes away! As soon as we moved in we went to visit them and immediately knew we were going to be friends.

At Stillwater, the horses are relaxed, engaged, and above all, respected. You will see riders walking with their horses with no lead rope, you will see them bareback with no bridle, just a simple halter, or possibly not even holding reins, simply leading the horse with their breath, presence and body language. It is beautiful to watch and to experience. Jolianne likes to say that you learn to dance with the horses - a beautiful idea to imagine.

Fun fact - The Ottawa Farm Fresh land was actually a horse stable before we arrived, and apparently the horses loved to hang out below the trees that now shade our summer kitchen. Maybe that's why we love that place so much! One of the horses that lived here before us, Rainbow, actually now resides at Stillwater Stables.
Above: Jolianne during her time learning Natural Horsemanship in Costa Rica
So, why are we telling you all this?
Well, there are a few reasons.


Number one - we might be your farmers, but we are lots of other things too. We hope that through sharing some of our passions beyond farming we can build stronger relationships and connect to our community even more deeply.
Number two
- as a small, local business we know the importance of word of mouth recommendations that are passed between trusted friends. We want to share our recommendation for Stillwater Stables with you, our friends and community. If you are looking for a local stable with amazing natural horsemanship practices, a non-competitive environment, and where building a connection with the horse is a priority, then
Stillwater Stables
is the place for you!